We're putting together some highlights of the past 150 years from a variety of sources - employee newsletters, newspaper and magazine articles, personal photos, and more. If you have memorabilia you'd like to share, please contact Leah Driver, 888-529-5450 ext 7749. (You should also check out our history page.)
Be sure to check back often as we'll be adding material throughout the year.
Daniel Maddox, Chairman and Chief Executive Office
Marketing Through the Years
Which is your favorite?
Beth Criswell, Loan Operations Manager
Latina Masters, Banking Center Manager
Angi Saunders, Deposit Operations
Rich Warner, Banking Center Manager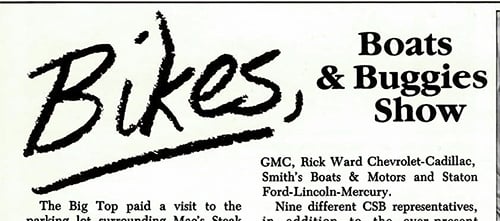 New Castle-ites of a certain age might recognize the Bikes, Boats & Buggies Show set up by Mac's Steak House, Summer 1985
Click for insight into the beginnings of our modern IT Department - PCs: Small Packages with Big Powers, Fall 1985
2023 New Castle Memorial Day Parade